Short reviews of social bookmark services
Maybe del.icio.us is a bit plain for your palate, maybe you want a bit of variety — there are several alternatives:
furl
Furl (http://www.furl.net/) has a neat and tidy portal feel to it. Registration is straightforward, and an easy to install toolbar for Firefox (furltools) is available. On the downside, response from the system seemed a bit slow and it's bookmarking page asks for too much information.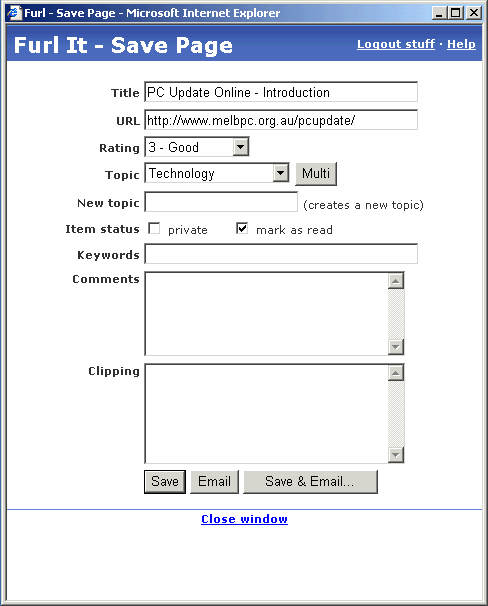 However, there is an upside: furl allows you to make a bulk upload of the bookmarks file from your browser, which could be a big time saver. You can also export your links out of furl in an impressive range of data formats, including XML, as a bookmark file (for Internet Explorer and the Mozilla browsers), and in several academic citation styles (e.g. APA, Chicago, and MLA).
Furl is owned and operated by LookSmart
Linkroll
A home-grown Melbourne product, Linkroll (http://linkroll.com/) has been available since about the start of the year. Registration and general usage are easy, although Linkroll uses comma-delimited tags where the normal (i.e. del.icio.us) style is to use spaces to separate tags. The design is modern and plain, and the site loads quickly.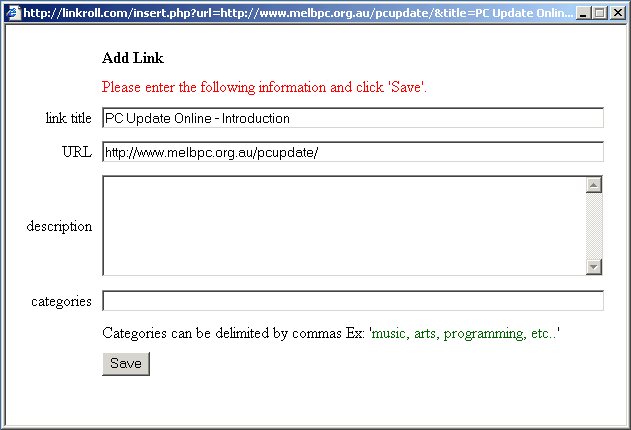 Developer Charles Coxhead has made some interesting additions to the del.icio.us model including JavaScript syndication and the clever "peek" feature that allows you to preview the linked web pages without leaving the Linkroll site (fig 3). He also has future plans to add podcasting to the services available at Linkroll.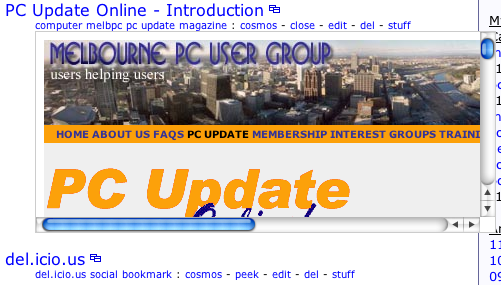 OpenBM
Run by Berlin-based Peter Schink, OpenBM (http://openbm.de/) has been running since December. It is another non-nonsense social bookmark site; like del.icio.us and Linkroll, registration is uncomplicated and the form for adding links is simple and straightforward.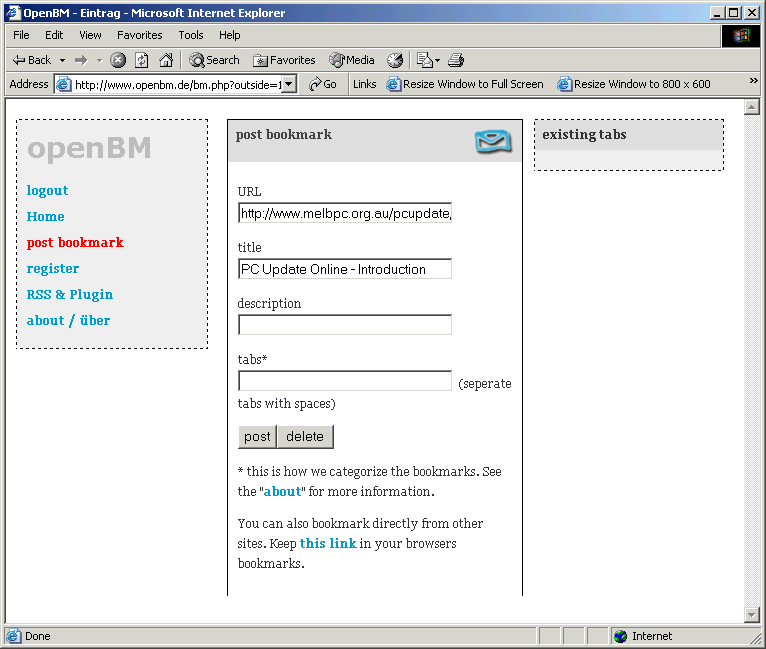 Simpy
Simpy (http://www.simpy.com/) didn't impress me much, but it is clearly in Beta testing so there is a good chance it will improve. My main beef is with the three-page registration process, which is tiresome compared to the simple process on most others sites.
Simpy provides the ability to upload your bookmarks file — in fact it is very insistent and pushy about it - but it takes 24 hours for your uploaded bookmarks to "get verified". All-in-all registering for Simpy is not a friendly experience and doesn't encourage users to return, and its user experience offers nothing that can't be had elsewhere for less hassle.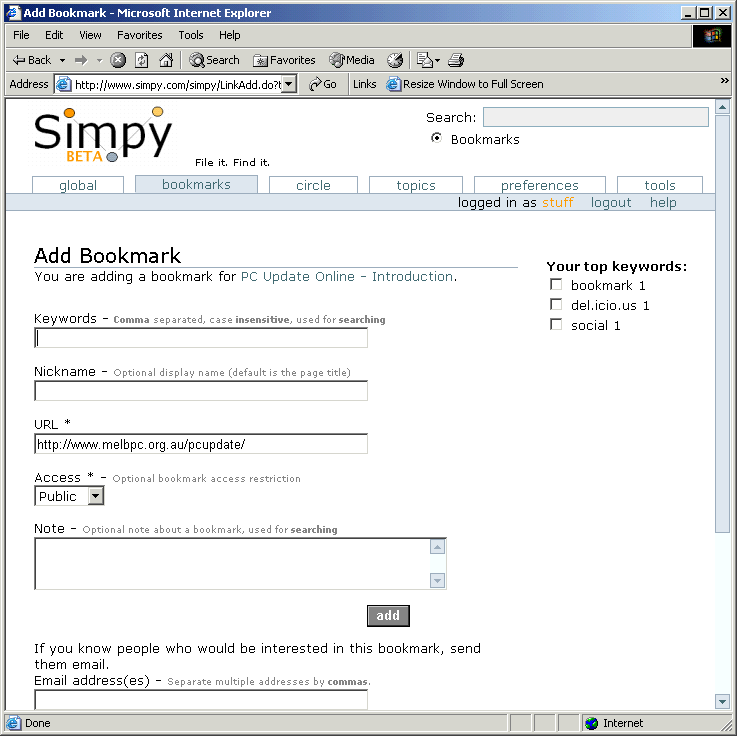 Spurl
Spurl (http://spurl.net), owned and operated by a privately held company based in Iceland, is a slicker offering. The page Spurl uses to add a link (fig 6) includes more detail than I need, and complicates the matter by having both categories and tags. It's trickier to setup than del.icio.us - for IE windows, you must download and run an installation program, which seems a bit excessive.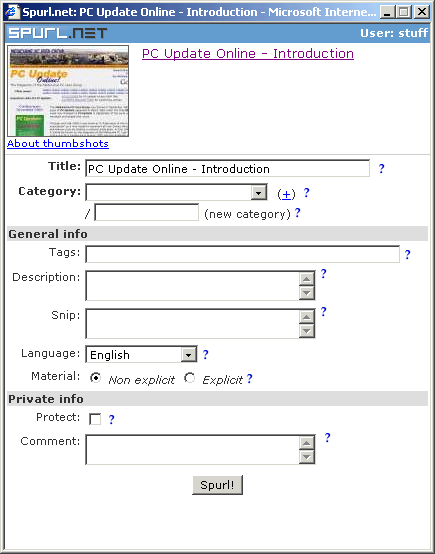 Spurl looks more polished than del.icio.us and the server seems just as responsive. In a smart marketing move, users of Spurl who also have a del.icio.us account can have the links they make at Spurl automatically posted to del.icio.us as well.
Using its database of links, Spurl has branched out into search engine territory with Zniff.com - Google it ain't, but the links it presents seem to be useful and are guaranteed to be vetted by real live people.
See also
First published: PC Update Apr 2005 (online version updated)