An arbitrary top twenty
It's great to hear about some handy tool or program that you haven't tried before. And it's all the better if you can get it gratis. This top twenty was collected from the opinions of friends and workmates who were asked to suggest their favourite useful programs. The top twenty were chosen from those that:
cost nothing,
don't require "registration" of any sort,
are fully functional and may be used indefinitely, and
are not known spyware (or any other nasty).
The list is completely arbitrary - it is neither review nor recommendation - but hopefully there's something here that you will want to test-drive.
1.The GIMP
The GNU Image Manipulation Program is a powerful graphics package for GNU/Linux and Windows.
With similar capabilities to professional image tools like Adobe Photoshop, the GIMP provides professional graphics tools including layers and masks, plus a wealth of image manipulation features and a script language to automate repetitive tasks. It is also exceptionally well documented with tutorials, an online manual and another handbook.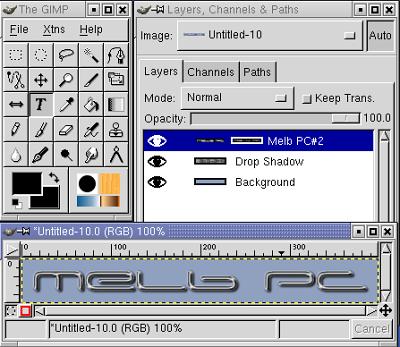 A testament to the commitment and ability of free software developers, this is a sophisticated and quality product.
The GIMP is released under the GNU General Public License (GPL).
2.OpenOffice.org
A full-featured office suite, OpenOffice.org runs on Windows, GNU/Linux, Mac OS X, and Solaris. It includes a word processor, spreadsheet, drawing tool, and multimedia presentation package. The help system is good and the interface is similar to other modern office suites. OpenOffice.org is able to read and write a range of file types, including Microsoft Office.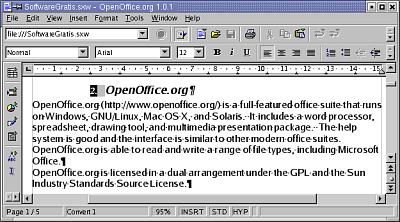 OpenOffice.org is licensed in a dual arrangement under the GPL and the Sun Industry Standards Source License.
3.Opera
Opera Software used to refer to Opera as the fastest web browser on earth, now it is "simply the best Internet experience". It is a fast browser, but other key features include the famous mouse gestures, control over pop-up windows, and the ability to change the 'identity' of the browser (so you don't get bounced off "Internet Explorer only" sites). Opera also provides intelligent management of bookmarks.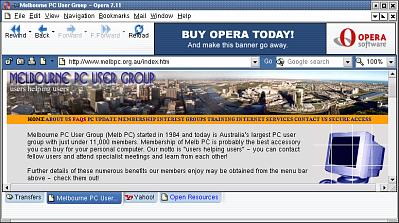 Opera runs on Windows, Macintosh, GNU/Linux, OS/2, Solaris, FreeBSD, QNX, and Symbian handheld devices, and has excellent compliance with Internet standards.
The gratis version is supported by advertising.
4.PostgreSQL
PostgreSQL (www.postgresql.org) is a SQL database management system (DBMS) for Unix-like operating systems and Windows 2000/NT.
PostgreSQL provides all of the features of a modern DBMS including support for the SQL standards, transactions, stored procedures, and integration with several programming languages (including C, C++, Java, Perl, Tcl, and Python). It is a mature and stable product that compares favourably with the "enterprise" DBMS.
PostgreSQL is released under the BSD licence.
5.HTML Tidy
It's hard to recommend this amazing utility too highly. HTML Tidy cleans up and corrects dodgy HTML. Feed it HTML that you've cut by hand and it spits out clean, valid HTML. It also does a remarkable job of "demoronising" the (often diabolical) HTML code that is produced by WYSIWYG HTML editing tools.
Anyone who produces web pages should have HTML Tidy in their toolbox.
HTML Tidy is available for Windows, Macintosh, GNU/Linux, BSD, and Solaris under a W3C license.
6.jEdit
A feature-rich, cross platform text editor jEdit is written in Java, so jEdit works on any platform that has version 1.4 of the Java runtime engine, including Mac OS X, OS/2, GNU/Linux, and Windows.
One of the major strengths of jEdit is the plug-in architecture, considerably extending the functionality of the standard editor. Not that the standard features are lacking - there is intelligent bracket matching, automatic indenting, syntax highlighting for an enormous number of programming languages, and the 'text folding' feature that allows parts of the text to be hidden selectively. It also uses the BeanShell language to add support for macros.
Despite all that functionality, it is easy to use with a clean interface and good documentation.
jEdit is released under the GPL.
7.HTTrack
Want to browse web sites offline, at your leisure? Then HTTrack is what you need. It is a web site copier for Windows, GNU/Linux and BSD.
HTTrack downloads web sites to your local machine, rebuilding the file structure as it goes. The result is a copy of the web sites that you can browse from your hard disk.
HTTrack has a multitude of options, which gives it plenty of flexibility and some complexity too. So read the manual, which contains many examples.
HTTrack is released under the GPL.
8.Netcat
The "network Swiss Army Knife" Netcat is a deceptively simple tool for GNU/Linux and Windows allowing reading and writing data across networks.
The documentation suggests a variety of possible uses but with a "user beware" attitude: Netcat is a very sharp tool, and sharp tools can hurt as well as help.
Netcat is released without any license restrictions.
9.VNC
Virtual Network Computer or VNC is remote-control software. Using the VNC "viewer" on one computer you can login and control another computer that is running the VNC "server".
Sounds like "Remote Desktop", doesn't it? Both Apple and Microsoft have "Remote Desktop" tools, but VNC works across platforms. The server and viewer can be on Windows, Mac or GNU/Linux but they don't need to match (e.g. you can view a GNU/Linux machine from Windows). There is also a Java viewer and even one for Palm Pilot!
VNC is released under the GPL.
10.Sweep
Sweep (www.metadecks.org/software/sweep/) is an audio editing tool for GNU/Linux, BSD, and similar systems. It supports a range of audio formats including WAV, MP3, and Ogg Vorbis.
The standout feature is "scrubby", which allows the editor to move through audio files with pin-point accuracy "just like you would have slowly turned the reels on a tape machine in the old days". Scrubby also allows for some funky DJ effects on recorded or live tracks, using the scrubby tool as if moving the stylus on a record.
Sweep is released under the GPL.
11.Belarc Advisor
The Belarc Advisor is a Windows utility that shows you what you have on your system. It builds up a detailed profile of your computer which is displays in a web browser. The profile includes information about the hardware (processor, network and local drives, memory), installed software and software licences.
There is no cost to use Belarc Advisor for personal use.
12.ImageJ
ImageJ (rsb.info.nih.gov/ij/) is a small but powerful image processing and analysis tool. Written in Java, ImageJ runs on the Java Virtual Machine version 1.1 or later, which includes Windows, Macintosh (OS 9 and OS X), and GNU/Linux. It runs as a standalone application or as an applet.
It has all the usual features of a graphics application including resizing, cropping, rotating, cut/paste, blend, polygon shapes, and batch processing. It is also extensible with plug-ins. ImageJ is surprisingly fast and powerful for a graphical Java application.
ImageJ is released to the public domain.
13.IRFanView
IRFanView (http://www.irfanview.com/) is a small, fast image viewer for Windows. It supports a large selection of image, movie, sound, and even text formats. Features include slide show, thumbnail previews, some editing facilities with batch processing, and support for printing and scanning. Image load quickly and, as IRFanView allows you to browse forward and backward through a directory, it is possible to skim through a long list of files.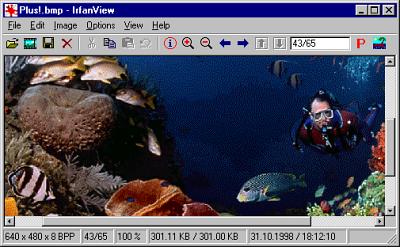 IRFanView is free for non-commercial, educational, and charitable use.
14.NoteTab Light
NoteTab Light (www.notetab.com) a text and HTML editor for Windows, is the free download version of NoteTab Pro. But just because it's a "light" version doesn't mean it's light-on for features.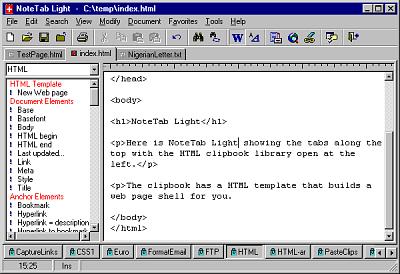 The tabbed interface makes working on multiple file easy, and NoteTab offers about a dozen "clipbook libraries" that provide shortcuts for editing HTML and, cascading style sheets, among others. Sadly NoteTab Light does not include syntax highlighting - you have to pay for that privilege.
NoteTab light is released as freeware under its own license.
15.Gnucash
An open source personal accounting package GnuCash runs on Unix-like systems including GNU/Linux and Mac OS X.
Documentation is generous with several tutorials and manuals available that cater to both the complete beginner and more experienced users. Features include a general ledger, double entry transactions, stock journal, charting, and a heap of reports.
GnuCash is released under the GPL.
16.FreeZip
FreeZip (members.ozemail.com.au/~nulifetv/freezip/) is a file zipper with good integration into Windows Explorer.
Like most good utilities, it does one thing very well - it just compresses and decompresses files without fuss. The author, Dariusz Stanislawek, says "If you know how to use Windows Explorer, then you do not have to learn anything new to use FreeZip."
Dariusz also has some other good looking tools on his site.
FreeZip is not associated with Braxio FreeZip! (which appears to be Spyware). FreeZip is freely available for use and distribution.
17.LeBackup Light
LeBackup Light (perso.wanadoo.fr/olivero/) performs background backups of frequently used files. It is a Windows backup tool, handy for small jobs.
LeBackup is released as unsupported freeware.
18.Trillian
With the ability to connect to ICQ, AIM, MSN Messenger, Yahoo! Messenger, and IRC, Trillian could be the ultimate multiple-protocol instant messenger for Windows.
Trillian is skinnable using SkinXML, which allows users to customise all aspects of the interface.
Trillian is freely available.
19.Ad-aware
Scan your Windows system with Ad-aware for spyware and other intrusive software, and deletes them.
Ad-aware is freely available for non-commercial use.
20.BBEdit Lite
THE text editor for Macintosh - BBEdit.
More powerful and feature rich than the editors that are packaged with the Mac, BBEdit includes good HTML editing features and powerful regular expressions search-and-replace. Unfortunately Bare Bones Software is not upgrading BBEdit Lite anymore, but it still available from their web site and you should be able to find it elsewhere on the web.
BBEdit Lite is a freely distributable, copyrighted program.
First published: PC Update Sept 2003